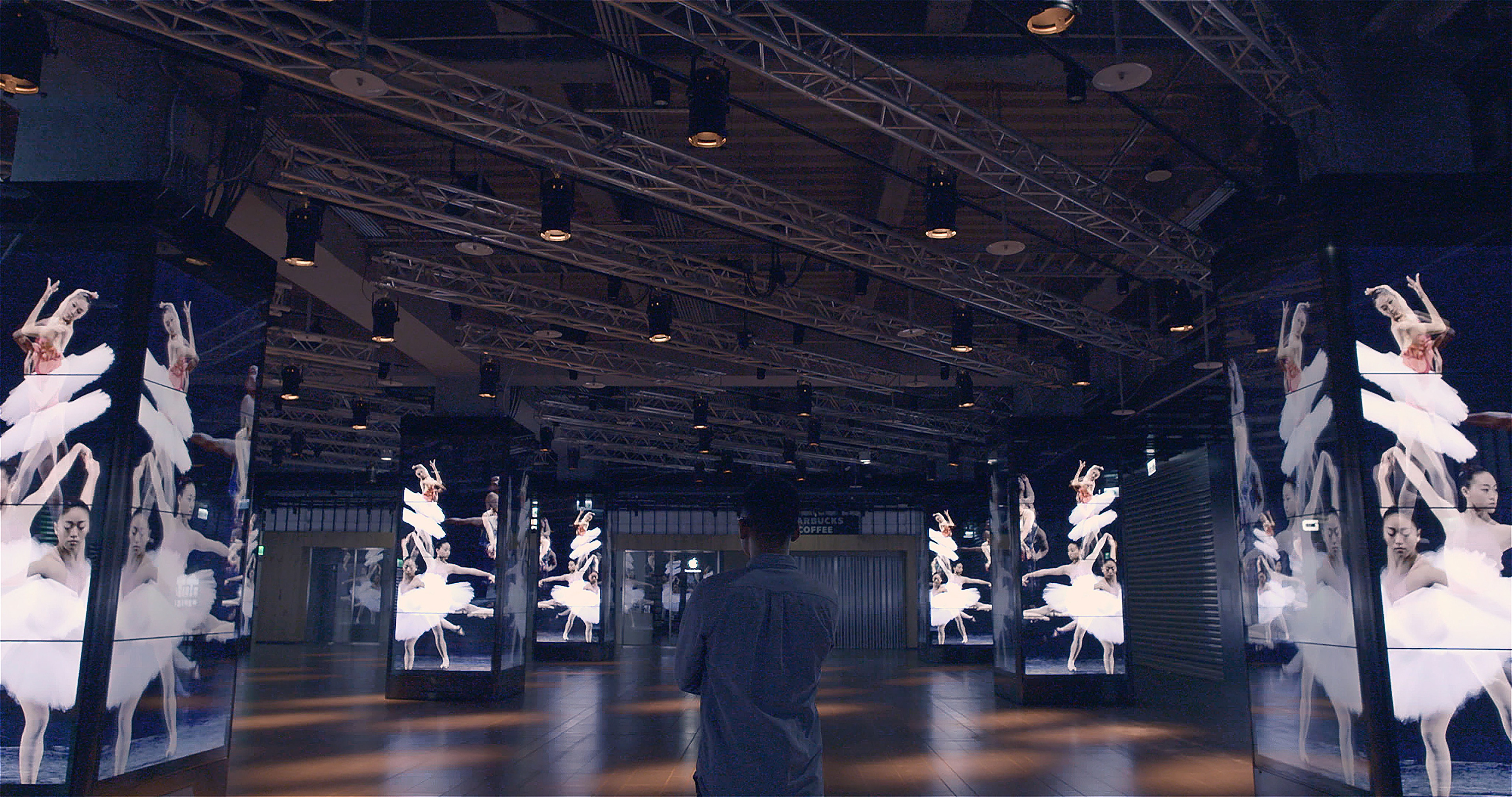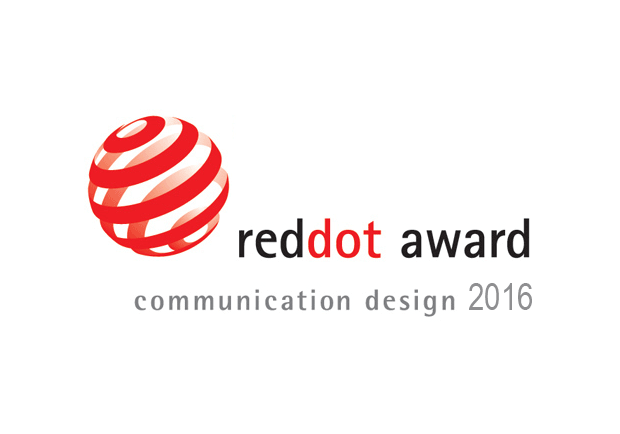 The concept of this project is about making comments on consumerism. As a newly open 3C-oriented department store, Syntrend is situated in a keen competition area where consumers are always looking for any chance to get cheaper yet not necessarily better 3C products. Our design team tried to look at these omnipresent unreason behaviors, and transformed it into three sets of moving image: Materialism As Our Shadows; Ideal Lifestyle and The Mind Game of Shopping.
This work is aiming at help positioning Syntrend as the reasonable choice for the consumers. Meanwhile it represents our thoughts on reflecting how general public act as consumers. We hope to stimulate people to think a little bit more before impulsively purchasing the latest gadget.
Each content is being screened on total 192 screen as whole project. We applied completely different techniques in each part in order to achieve the unique look that best suited the concept. Modern dance choreography, Slit-scan, and Slow-motion live action shooting. 
Syntrend is located in the middle of two very different sections of the city; which attract totally different groups of people. One side was full of small, cheap but messy 3C shops, completely made for 3C geeks and nerds. The other side was full of small cafes and art galleries that full of trendy youngsters and art lovers. These two groups of people did not mingle well and shared very little common ground. Since the youngsters tend to think 3C geeks are not trendy and insensitive about aesthetic; the 3C geeks tend to see those youngsters as "spoiled kids".
 Our objective was not only attract 3C geeks for Syntrend, but also by creating this artsy series of work; attract those youngster and art lovers from "the other side of the city" to walk in and experience this new way of 3C shopping. By showing how technology and art can be smoothly integrated together, we aimed at re-connecting these two groups of people in Syntrend's modern and tasteful space.  
 For the grand opening, we successfully helped Syntrend attracted 1.5 million people visiting during the first month. For the following months until this day, the average visiting traffic is around 1million people per month. Most visitors see Syntrend not only a modern 3C department store, but also an art exhibition space. 
Target audiences often casually walk-by our work, then find it very different from traditional commercials they would see in shopping mall, and stopped at the spot and appreciate the complete piece. They might not be able to completely understand what the visual is all about, and they often discuss with their friends and taking pictures via their phones. 
Most important of all, we helped transforming target audiences stereotype of how each others are. People now finally walk into Syntrend and mingle. For 3C geeks who used to shop around this area, they notice the difference of being able to walk around this well-thought, artsy space, surrounded by not only other geeks but also families, young couples, students from various age groups, youngster...etc and still can easily find what they are looking for. Which was impossible back in the days that walking around in those old, messy alleys where cheap 3C shops are. For those youngsters and artsy people, the whole experience is alot more comfortable and welcoming compare to what it was. They can feel the connection of this space yet also take a good look of how technology trend is going on.
 Our work helped Syntrend manifesting it's brand vision, and was featured in many mainstream media. We are glad that our efforts helped people extended their imagination about technology and life a little.
這個作品的概念是對消費行為做出評論,做為一個新開幕的3C百貨賣場,三創座落在競爭激烈的區域,消費者總是在尋找更便宜但不一定好的3C產品。我們將這些同時存在又非理性的行為,試著將它轉換成三種動態影像設定:唯物主義如同自己的影子、理想生活型態、與腦內購物遊戲。
目的是幫助定位,對於消費者而言三創是合理的選擇,它同時代表了我們想要呈現一般大眾在消費時的行為,我們希望刺激人們在衝動購買最新的玩意之前多想一點。
整個作品透過共192個螢幕拼接成12根柱子來表現,為了創造獨特的視覺符合這個概念,我們在每個主題採用完全不同的技術,現代舞編排、slit-scan、慢動作實景拍攝。
三創座落的地利位置,一邊是傳統3c賣場「光華數位新天地」,一邊是藝文展演空間「華山文化創意園區」,長久以來並未將兩側的人流串連起來,透過我們的作品,重新定義了八德商圈的商業型態,結合時尚藝文科技,打造出最新穎的多元文化展演場域,扮演商圈串連的重要媒介。
透過這次三創品牌形象的建立和行銷操作,開幕當月創造了一個月150萬人次的造訪量,每月平均有80~100萬人次的造訪,遊客看到的不再只是一個現代化的3C百貨商場,也是一個藝術展演空間。
顧客透過在商場內觀看到的視覺影像,我們該變了每個人對於3C購買的刻板印象,有別於過去在雜亂環境中的體驗,透過這個空間的連結了解未來科技的趨勢。
我們幫助syntrend體現了品牌的願景,並擴展了人們對於科技和生活的想像。


在世界各地百貨商場都會有櫥窗的陳設,也是各大商場呈現給顧客最重要的第一印象,從巴黎的香榭大道到東京的銀座,各大品牌都盡全力的在櫥窗內展現自己對品牌詮釋的觀點,藉此吸引觀眾的目光透過12隻媒體柱,我們定義成12個櫥窗空間的概念來使用,我們先陳設好櫥窗,將科技、美食、通訊、藝文等相關主題,360度錄製下來後,透過slitscan概念來重新演繹,將傳統靜態的櫥窗陳設,拼接鏡射旋轉,轉變成有機體的活體櫥窗
櫥窗陳設我們找了Super ADD藝術裝置團隊和花卉藝術家  李霽(質物霽畫)的幫我們製作

Client: 三創
Production Company: Dosomething Studio
Producer / Creative Director: 王宗欣
Director: Jason M Tseng
Art Director: 王宗欣
Choreography Director: 張雅婷 / 洪志蕾
Director of Photography: 吳仲倫
First Photography Assistant: 小賴
Production Designer: Super Add - Cotton 李霽
Head of Designers: Han-Chieh Chen
Designer: Ting-Hsuan Lin
Lighting: 妄想機影音製作
Music: Han-Chieh Chen / 彭哥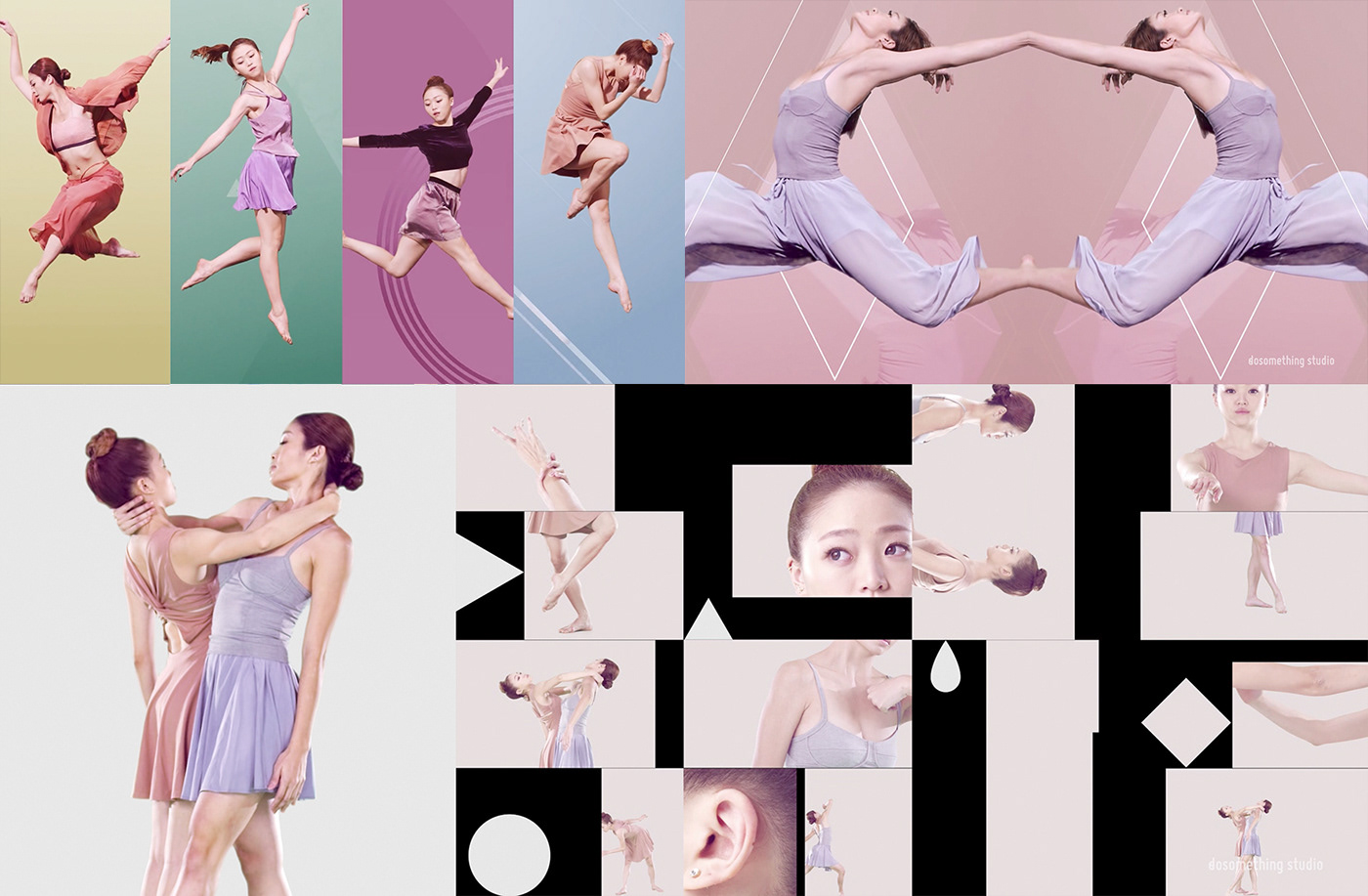 三創加入這個商圈後,扮演起不一樣的角色,帶入更多不同客群的人潮,尤其是女性族群的購物族群,可以更舒服簡單的在這裡消費,所以我們從女性消費者的內在和外兩種狀態來發展這個作品,內在的部分:透過兩位舞者的舞蹈動作,跳躍、伸展、拉扯,來代表購物時心境中雀躍、滿足、猶豫的心理狀態,在媒體柱上拼貼位移,將內在的心境做比較具象的呈現,外在的部分:透過舞者的挑躍和不同的介質轉換,表現女性和消費物品之間的關係,流體、絢爛的煙火、表現購物後和商品的抽象情境.
女舞者的服裝我們找了台灣新興的女裝品牌6ix pm幫我們打理造型

Client: 三創
Production Company: Dosomething Studio
Producer / Creative Director: 王宗欣
Director: Jason M Tseng
Art Director: 王宗欣 / Han-Chieh Chen
Choreography Director: 張雅婷 
Director of Photography: 吳仲倫
First Photography Assistant: 小賴
Gaffer: 大嘴
Head of Designers: Han-Chieh Chen
Designer: Ting-Hsuan Lin / Zoe Huang
Makeup: 晶星造型
Stylist: Six p.m.
Music: Han-Chieh Chen / 彭哥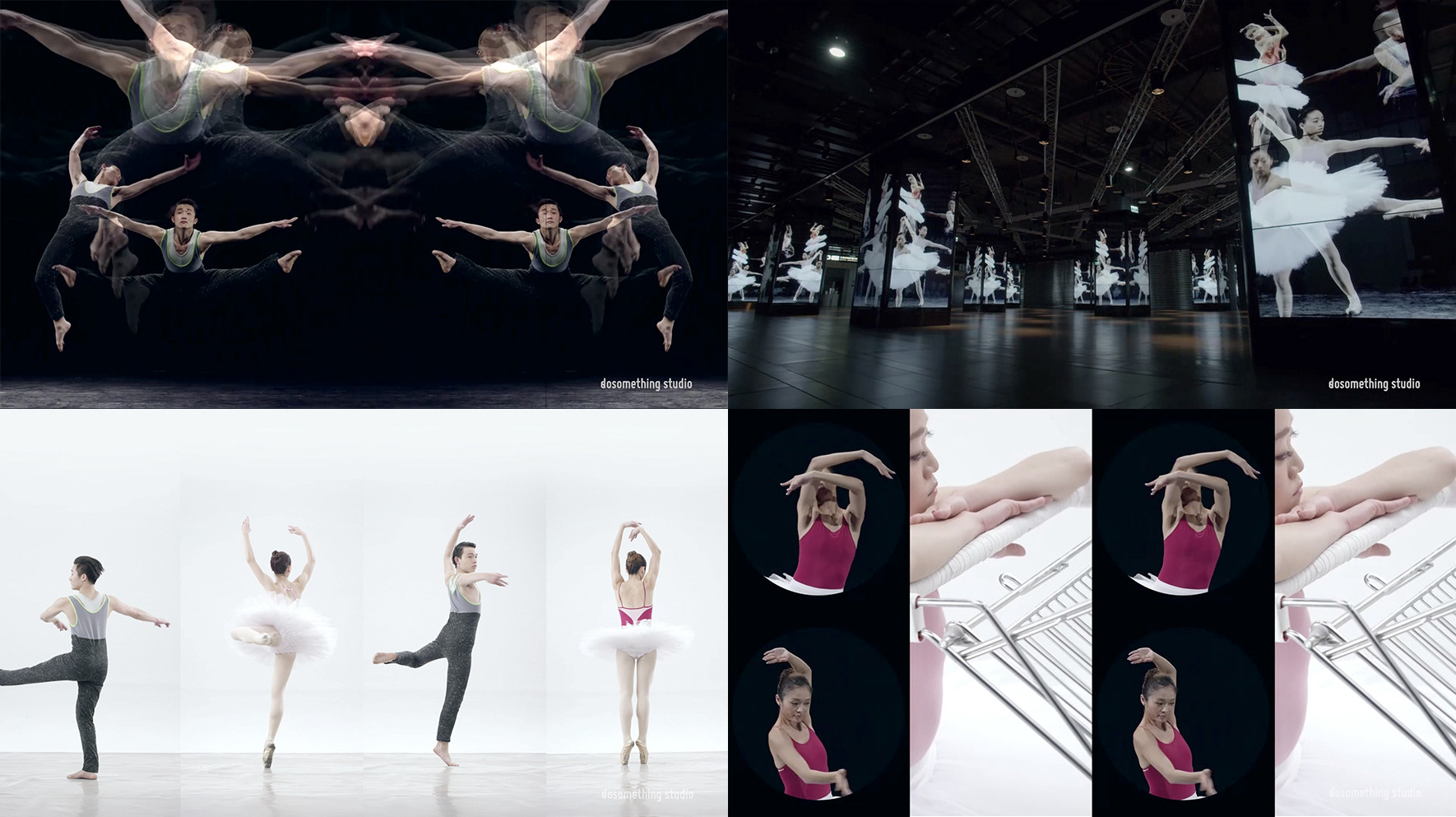 這是為三創這個特殊場域製作的動態錄像裝置,由於這是一個結合藝文和科技商場,我們想要抓到這個特點將傳統和科技去做一個衝突的結合,在12根林立的媒體柱上演出,結合180坪的空間和場域的燈光音樂,將三創想要表現出來的科技人文精神融入其中
舞者用現代芭蕾的方式優雅的和購物車互動,有趣的演繹出購物的激情,讓購物的愉悅感在空間中流竄,想將傳統或是對一般群眾比較生冷的表演藝術形式,可以更簡單的融入生活中
男女舞者的芭蕾服裝我們找了在國際相當知名的台灣芭蕾舞衣品牌KeithLink,編舞由張雅婷設計
Client: 三創
Production Company: Dosomething Studio
Producer / Creative Director: 王宗欣
Director: Jason M Tseng
Art Director: 王宗欣
Choreography Director: 吳維瑋 / 張雅婷 / 洪志蕾
Director of Photography: 吳仲倫
First Photography Assistant: 小賴
Gaffer: 大嘴
Head of Designers: Han-Chieh Chen
Designer: Ting-Hsuan Lin
Makeup: 晶星造型
Music: 彭哥